"To the person who suffers shame, the world is full of eyes, crowded with things and people that can see. Bewitching eyes watch every movement and moment of self…One is visible and not ready to be seen, looking and not ready to see. There is a constant, excruciating feeling in shame of being looked at while hoping the ground beneath your feet will open and swallow you up."
The issue of shame has become a central topic for many writers and therapists in recent years, but it is debatable how much real understanding of this powerful and pervasive emotion we have achieved. In The Eyes of Shame, Mary Ayers argues that shame can develop during the first six months of life through an unreflecting look in the mother's eyes. that this shame is then internalized by the infant and reverberates through its later life.
This book was the winner of the Gradiva Award from the National Association for the Advancement of Psychoanalysis (2004)
Review Article: Ayers' Mother-Infant Attachment and Psychoanalysis: The Eyes of Shame. Powell, Mary // Journal of Religion & Health; Dec 2004, Vol. 43 Issue 4, p379
In Masculine Shame: From Succubus to the Eternal Feminine, Mary Ayers explores the idea that the image of the succubus, a demonic female creature said to emasculate men and murder mothers and infants, has been created out of the masculine projection of shame and looks at how the transformation of this image can be traced through Western history, mythology, and Judeo-Christian literature. Divided into three parts areas of discussion include: the birth of civilization and the evolution of the succubus the image of the succubus in the writings of Freud and Jung the succubus as child killing mother to the restoration of the eternal feminine. Through a process of detailed cultural and social analysis this book places the image of the succubus at the very heart of psychoanalytic thought, as seen vividly in both Freud's Medusa and Jung's visions of Salome. As such this book will be of great interest to all those in the fields of analytical psychotherapy and psychoanalysis.
Review Article: Ayers, Mary Y. Masculine Shame. From Succubus to the Eternal Feminine. Susan Rowland, Ph.D., Journal of Jungian Scholarly Studies, Vol. 7, No. 5, 2012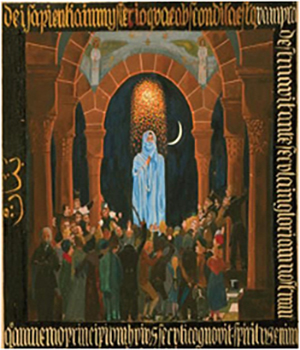 Picture from The Redbook
by CG Jung
Re-Visioning Mary: The Transformation of the Eternal Feminine (2016).
• By Mary Ayers and Brian Weber
(Description and link coming upon release.)